I haven't participated in The Book Chat in a few weeks now, but I'm especially excited about today. Not only am I co-hosting with Jessica from Sweet Green Tangerine, it's basically one of my favorite book-topics ever.
Grab the button below and join in!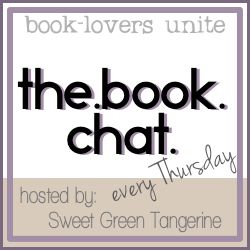 Today, it's all about YA lit.
I talk about my love for teen books a lot. My favorite authors, favorite novels, favorite characters… but I don't think I've ever just *talked* about them as books.
When I was a teen, I didn't actually read YA. I've always been a huge book-a-holic, but I didn't really know how to go about finding books for my age. I usually just relied on friend recommendations and would devour the same novels over and over again. My faves for a long time were The Sisterhood of the Traveling Pants, but beyond those I don't remember having any knowledge of YA. How crazy is that?!
Now, I can't imagine my life without them. I read teen novels on a regular basis & even as a 20-something, a huge majority of the most life changing books I've read are YA. I think there's really something to be said about that; the fact that adult authors can grasp a young adults' frame of mind SO precisely and use words to change my entire perspective on a particular subject is a true talent.
I think that I'm a very open minded reader, for the most part, but YA is my go-to. I have such an affinity towards it, and I don't think there's anything more important than having writing that impacts young generations into doing great things.
If you're looking to dip into some good YA lit, here are a few of my favorites in each genre:
FANTASY
Graceling by Kristin Cashore//Daughter of Smoke & Bone by Laini Taylor//City of Bones by Cassandra Clare//Cinder by Marissa Meyer
CONTEMPORARY
The Fault in our Stars by John Green//13 Little Blue Envelopes by Maureen Johnson//The Sisterhood of the Traveling Pants by Ann Brashares//I Am The Messenger by Markus Zusak
DYSTOPIAN
The Hunger Games by Suzanne Collins//Delirium by Lauren Oliver//Wither by Lauren DeStefano//The Maze Runner by James Dashner
What are your favorites? Anything I should be reading based on these series? 
Your turn!
To join in…
1. Please follow the host and co-host
2. Visit a few other book chat links and show some support.
3. Link back here in your post.  Or use the button provided.
4. Old posts are always welcome if you have blogged on the topic before.